Appointment of Professor Zhang Junsen as Dean of School of Economics of Zhejiang University
Published:2021-03-25
The appointment ceremony of Professor Zhang Junsen as dean of school of economics of Zhejiang university, which was formerly taken up by Professor Huang Xianhai, was held in Zijingang Campus on March 22nd.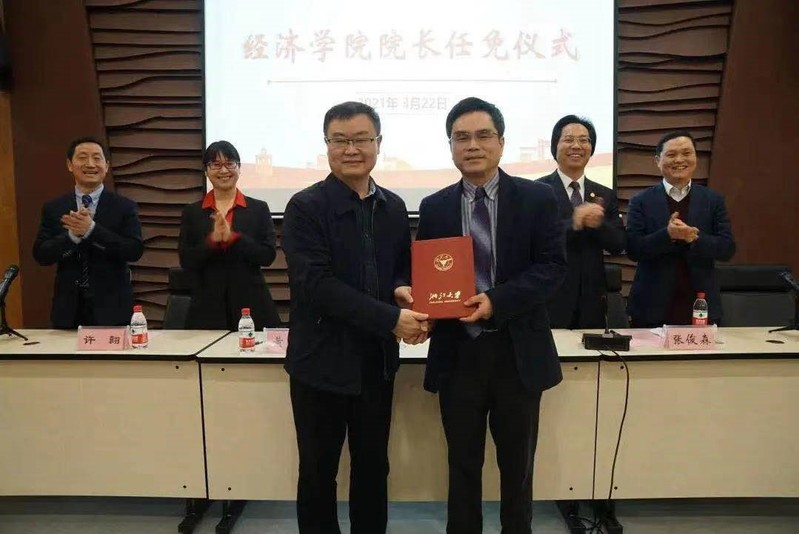 Professor Zhang graduated from Zhejiang University in 1983. He took his Master degree and later his PhD of economics from McMaster University in 1986 and in 1990. He was once associate dean of school of social science and head of the economic department of Chinese University of Hongkong. He was also chairman of Hongkong economic association and a member of strategic development committee of Hongkong government. As this return to his alma mater and his taking up the post of dean of school of economics, he said that he would work together with all the teachers and students here to make this school of economics world-renowned.
His main research interests are labor economics, development economics and China's economy etc. He has long been dedicated to the study of family behavior from a micro point of view, economic issues related to labor market, and issues of macroeconomics on family like aging of the population, social security and economic growth. As associate editor of Journal of Human Resource, he has published a certain number of articles in many internationally renowned journals like Journal of Political Economy. He won the Sun Yefang Economic Science Award in 2016 and Zhang Peigang Outstanding Achievement Award in Development Economics in 2020.
【 close 】