The International Symposium on International Migration Held in Zhejiang University
Published:2019-09-16
With the reform and opening up as well as the implementation of the Belt and Road Initiative, China has not only become the world's fourth largest source of immigrants (nearly 95,400,00), but also an important recipient of overseas immigrants. In order to seize the opportunities brought about by immigrants and address the possible problems, the Department of Sociology of Zhejiang University and the Asian American Studies Center of University of California, Los Angeles (UCLA) jointly organized an international symposium on international migration in Zijingang Campus, Zhejiang University from September 4 to 6, 2019.
More than 60 scholars from over 20 universities at home and abroad attended the conference, expressed their respective views and carried out extensive and in-depth discussions on international migration governance, international migration theory and its progress, the current situation and problems of the groups coming to China, the problems and challenges of international migration policy, and the management system of international migration, etc. In addition, Professor MAO Dan from Zhejiang University and Vice-President C. Cindy Fan have reached a further consensus on how to deepen the cooperation between the Department of Sociology and UCLA on scientific research and student training.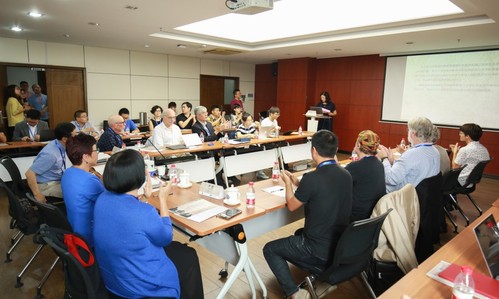 The opening ceremony of the International Symposium on International Migration
In the discussion, Professor C. Cindy Fan delivered a speech about the experience of migrant family construction using China and Asia as an example. She believes that the split families generated by migration will continue to exist, while gender, intergenerational relations and nursing are the core issues of family construction. Douglas S. Massey, a professor at Princeton University, delivered a lecture related to the feedback on the immigration policy in North America. Based on feedback on eight policies during the Bracero Plan implemented in 1942-1964 and the Criminalization of Asylum Seeking in 2018, he believes that policy intervention may have unexpected consequences if a policy maker has a poor understanding of the dynamic immigration system. Professor Hiroshi Motomura analyzed the latest changes in American Immigration Law since President Donald Trump took office in January 2017. He argued that the US Congress and the Federal Court have failed to prevent the US President from tightening immigration policies, featuring extreme suspicion of refugees and (political) asylum protection, restrictions on access, rejection of the concept of "immigrant countries", and isolationism in education and trade.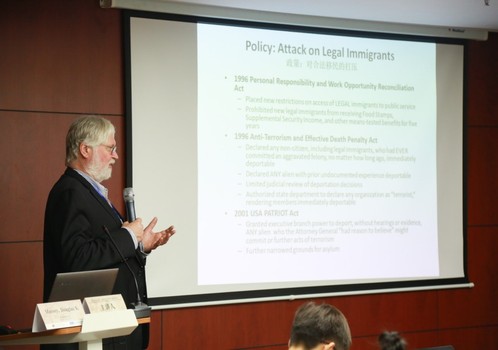 Prof. Douglas S. Massey is speaking
Prof. Hiroshi Motomura is speaking
Professor Roger Waldinger of UCLA made a speech on the role of transnational doctrine and nation states in international research. He introduced in detail the transnational doctrine and its main characteristics, as well as the remittances of international migrants and the acquisition of their citizenship after 1990. He also analyzed contradictions and barriers to cross-border migration. He believes that links between the sending countries and receiving countries should be established to make immigrants self-sufficient. Professor CHEN Yupeng comprehensively introduced the history and current situation of foreign immigrants and foreign businessmen in Yiwu city, as well as the life and trade of foreign businessmen in Yiwu, and then observed the social embeddedness of the foreigners in the field of economy, residence, culture and psychology.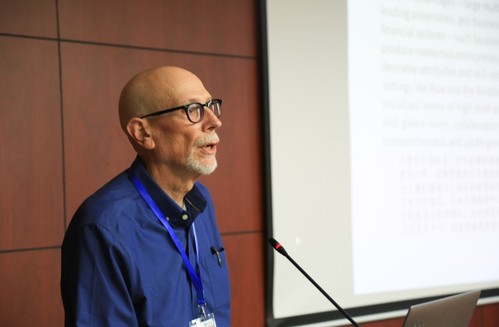 Prof. Roger Waldinger is speaking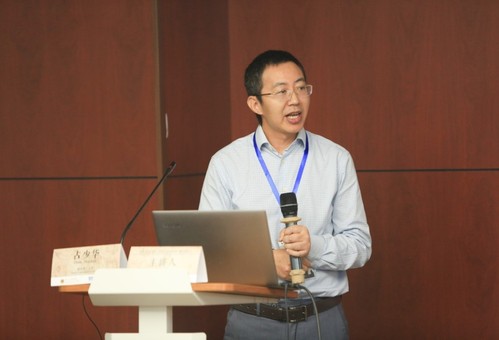 Prof. CHEN Yupeng is speaking
Professor Steve Gold of Michigan State University shared his latest research on "high-tech and informal sectors: recent advances in migrant enterprises". He found that ethnic enterprises, which had long been neglected by scholars and policymakers, are attracting more and more attention in recent years because of their considerable economic benefits. Among them, high-tech enterprises and informal enterprises are the most typical. In addition, Professor ZHAN Shaohua of Nanyang Polytechnic and Professor ZHOU Min of UCLA jointly published a report on Singapore's talent migration policy and its unforeseeable consequences. They put forward the concept of "unstable talents" to try to bridge the current research gap and they also took Singapore's talent migration policy as an example to present the contradictions and politics in the talent migration policy system.
After the meeting, Professor Mao Dan invited many internationally renowned scholars in the field of immigration sociology, such as C. Cindy Fan, Douglas S. Massey, Hiroshi Motomura, Jacob Thomas, Roger Wildinger, Steven Gold, etc. to conduct discussions about theories and policy research on China's international migration, and how to build a domestically leading and internationalized sociology major pertaining to immigration. Besides, Professor MAO from Zhejiang University and Vice-President C. Cindy Fan have reached a further consensus on how to deepen the cooperation between the Department of Sociology and UCLA on scientific research and student training.

A group photo of participants
Sept.16th, 2019
Translated and edited by Jiang Manxian
【 close 】